NOURISH U
Unstoppably Healthy, Fit, Strong and Joyful

Individual and Group Coaching
from a radiantly healthy powerhouse trainer and author
with 25 years of experience and "walking the talk"
(+ ACE-certified fitness trainer and health coach)
For more on the NOURISH U Nine-Week Online Course,
see www.nourish.university/nineweeknourish
The health + body you need for the life you lead . . . with joy, ease, and clarity
DISSOLVE confusion, overwhelm and resistance to healthy choices

KNOW what your body needs, and happily give it to yourself

MASTER unstoppable motivation with new thinking

No diets, regimens, "compliance," weight-watching—just clarity and choice!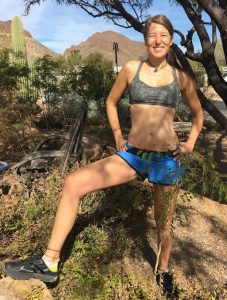 What if you were not only clear what's best for your body—but also so powerfully inspired  that you WANT what's healthy and sustainable? So you actually DO IT—consistently?
That's what my work is about.
Most often, some combination of missing knowledge + insufficient motivation obstructs people from getting where they want to go with their health and their bodies. Short-term, nearsighted, negative thinking and language—paired with misconceptions and myth-fad chaos—holds you back.
In your free "FUEL YOUR BODY/POWER YOUR LIFE" Session, I'll help you determine the missing pieces that—if you had them—would pave your way to becoming super-healthy, radiantly fit, and rock-solid in your total body/life nourishment.
Discover where you are, where you want to be, and how I can help you become the smartest, savviest and happiest health consumer you know. Able to distinguish vital truth from noisy distractions. And inspired to apply what you know…joyfully.
My goal is that you be SMART, FIT, STRONG, VIBRANT AND AGELESS—and experience self-care and healthy living as a privilege with ease and choice. Not a drudgery or drag.
POWER YOUR BODY & LIFE WITH WHAT REALLY MATTERS.
SYNTHESIZE AND INTEGRATE THE ESSENTIALS—AND BRING THEM TO LIFE!
END… confusion, struggle, overwhelm, ambivalence, poor choices.
DECREASE… body fat, illness, stress.
INCREASE… energy, vitality, muscle, clarity, choice, confidence, longevity, discernment, joy, integrity.
KNOW WHAT TO DO.
WANT TO DO IT.
AND DO IT.™

I synthesize proven essentials—and ignite powerful motivation to use them with my unparalleled, super-efffective Conscious Inspiration™ approach.
You get clear, confident, and at peace about what's nourishing—in a body that's nurtured for everything you want to do, today and into your long life.
I can expertly and compassionately support you in:
• giving yourself what you need to be fully nourished—naturally—for energy, strength, and amazing aging.
• putting practices and structures in place to create your own signature healthy-living blueprint
• cutting through the fog of conflicting headlines and distractions
• getting the deep, juicy self-inspiration that will move you to ACT on what you know—happily.
Bring healthy living alive—so it's no longer an abstract concept or chore, but a natural practice that's fired by deep clarity and purpose. Age naturally and fearlessly, feel amazing, and fulfill your body's true potential.   
GET CLEAR ONCE AND FOR ALL:
Why most healthy-living info has failed to move you (and what WILL)
Why "willpower" doesn't work (and "conscious inspiration" DOES)
How to step beyond a victim stance about health and aging
How to weed out health myths, fads, and distractions AT A GLANCE
Why "weight" is IRRELEVANT, and focus on it is utterly useless
How to LOVE what's good for you (once you know)
The most proven shortcuts to the longest, most productive life
PERSONALIZED ONE-ON-ON SUPPORT
FROM A POWERFULLY INFORMED AND INSPIRING
"JOYFUL NOURISHMENT INSTIGATOR"
Are you ready to get inspired, get smart, get healthy and fit, and actually LOVE doing it?
I offer custom individual coaching packages.
Or join the next online nine-week training: learn more here.
Call 520.314.0994 for a FREE 30-minute session to discuss your health, fitness and nourishment goals. Let's see if my unique, 25-year-tested, powerhouse approach feels like a fit for you.
Or email robyn (at) robynlandis (dot) net.
Also read more about my approach here. 
And visit www.nourish.university for more.
WORK WITH ME TO OPTIMIZE, STREAMLINE, LASER-FOCUS,
AND UPLEVEL YOUR SELF-NOURISHMENT—FOR YOUR BEST BODY AND LIFE NOW AND FOR DECADES TO COME.
---
As a certified fitness trainer, health coach, author, speaker, and "joyful self-care inspiration," Robyn Landis helps people become unstoppable in "fueling" and nourishing the body and life they yearn for.
Her time-tested unique approach helps you step decisively into core healthy practices, and make your own nourishment a joyful choice and priority—for energy, strength, and peace of mind.
She offers individual and group coaching, including "NOURISH U: The Joyful Self-Care Success System—9 Weeks to Happier Healthy Habits and a Fully-Charged Life."  This is a streamlined, hype-free online training in what really works and matters most—supported by research and experience.
With two bestselling books and a third on the way, numerous nationally-published articles, media appearances, and 25 energetic years of walking her talk, Robyn has helped hundreds of thousands of people overcome confusion, overwhelm, and resistance to healthy living.
She synthesizes and integrates the most proven essentials—and ignites powerful motivation to use them. With infectious exuberance, compassion, and common-sense logic, she deflates myths, distractions and objections. In their place, she supports compelling, juicy inspiration for healthy choices and habits that lead to radiant well-being.
Her bestselling 1994 book Bodyfueling (Warner Books) schooled readers in often-misunderstood basics about food, exercise and the body—and liberated them from the "diet thinking" that obstructs healthy, knowledgeable, conscious living. Her 1997 followup Herbal Defense—cowritten with one of today's foremost herbal masters— did the same service for herbal medicine, Ayurveda and natural healing.
For more than 20 years since, she has taught and modeled a fit, fueled, and sustainable life. She proves that healthy can be joyful, easeful, and support all beings and the planet as well as ourselves. And she embodies a possibility for aging naturally and beautifully that feels and looks remarkable—and reflects our true potential for the longest, most productive life.
Robyn speaks regularly at schools, conferences and companies on topics such as how to crack the motivation code and teach/inspire health living effectively; how to age fearlessly and amazingly; how to dramatically reduce sugar and still enjoy sweets; how to make plant-based a pleasure; how to love what's good for you; and much more. Book her to speak at your event, company or school.