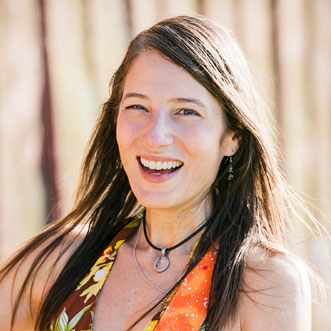 Certified trainer and coach, author, speaker, and healthy-living inspiration Robyn Landis is a passionate voice for laypeople to become discerning, powerfully informed food, fitness, product, and health care consumers—instead of sound-bite victims. Radiant and knowledgeable, she teaches by living example as well as in words.
Robyn's vision is that of an informed and inspired population that knows what to do to be healthy, is inspired to do it, and loves it. That's what she calls joyful nourishment.
"I am helping to shift the way people think about and approach health, fitness, and sustainability in their lives—so that they are empowered beyond any struggle in how they relate to these issues. They know what to do, they want to do it, and they do it. They care of themselves, one another, and the planet—and find that it is not hard to do."
To Robyn, "fueling" yourself is about the power to joyfully nourish your body and life—for your highest possible purpose.
In the early 1990s, at 24, Robyn Landis wrote a book called BodyFueling that was published by Warner Books and became a surprise bestseller (spending 14 months in hardcover and topping numerous regional bestseller lists such as the Seattle Times and Washington Post). " In an unheard-of move, a Warner Books editor had pursued and accepted the unagented manuscript and young author.  There are over 150,000 copies in print worldwide.
While many nutrition how-tos have evolved considerably as food research emerged over the past 20 years, the real takeaway of the book was its provocative, motivating new way of thinking about food and our bodies. It helped usher in a healthier, saner language and approach—fact-based, holistic, life-oriented—and has helped many thousands of people become informed, empowered "fuelers" of their bodies and lives.
Robyn brought an inspiring depth of perspective that was sorely lacking in the regimented thinking surrounding most health —and unfortunately, still is.
More than two decades after the publication of the book that coined the concept of "diet thinking" and scathingly dissected simplistic platitudes like "eat less and exercise more," Robyn has brought her eloquent voice and mature wisdom back into this dialogue. Despite much sophisticated, improved information—and many sensible, trustworthy educators and writers that have emerged—there are too many people still struggling with food, health, and fitness issues. We need all hands on deck.
And after 20+ years, there's no denying the effectiveness of Robyn's approach to fueling a healthy life. This is no "six months later" story—this is a "look at her 20+ years later" story.
But do more than just look—listen.  Because Robyn doesn't just talk and write—she joyfully lives this fit/fueled/happy approach. And she has always had a gift for motivating and inspiring people to purposefully nourish their bodies and their lives—with ease. She's back—with more insight than ever—to share that gift with anyone who wants to explore it with her.
"The case for new thinking in health and fitness education has found a unique and powerful voice in Robyn Landis."
~ Dr .Kaaren Nichols, M.D. Seattle Medical and Wellness Center founder
"A myth-busting tour de force."
~ Longevity Magazine
"I wished she'd taught my high school science classes."
~ Molly Martin, The Seattle Times
---
HOW IT ALL BEGAN
Frustrated by her relative lack of fitness even after training and running her first marathon, Robyn turned away from pop culture's platitudes—and toward physiology and biology textbooks—for the plainest facts about how the body really works with food and exercise.
Her excitement about what she learned, and her vexation at how few understood this info, led her to create a BodyFueling® Workshop. She taught the program for three years before naturally turning to her natural lifelong gift—writing—to communicate her findings via a book.
She followed up BodyFueling by co-writing a respected bible of herbal medicine, called Herbal Defense, with world-renowned herbalist and Bastyr College of Naturopathic Medicine faculty member Karta Purkh Singh Khalsa. There are over 50,000 copies in print of Herbal Defense, also still available at Amazon.com.
Because Robyn was quite young and had other aspirations and passions (and because there was no Twitter or Instagram in the 90s!), she allowed the books to stand on their own and went on to explore other interests. Over the next two decades she became a multi-award-winning songwriter (robynlandis.com), a health and environmental journalist, and a sought-after communications consultant who has helped nonprofits, government agencies and private ventures powerfully share their messages with the world.
Yet throughout this time, while Robyn didn't actively pursue furthering her BodyFueling® brand or teaching, she remained a tireless advocate and role model for healthy living in every sense.
Everywhere she went, people were interested in how she ate, shopped, and lived. She's led by example and shared her evolution as her own journey deepened and matured. She's acted as a resource for everyone around her on topics ranging from delicious organic vegetarian fare, to effective workouts, to sensible use of herbs, to sustainable and eco-friendly shopping for everything from cosmetics to household cleaners.
---
AND NOW…
On the 20th anniversary of the publication of BodyFueling, Robyn decided that she would re-launch a broad-based effort to share her voice, approach, and support so that everyone can experience the powerful fusion of knowledge, perspective and inspiration that she feels so fortunate to enjoy.  
The result is her forthcoming book Nourished; her online group coaching program Nourish U: The Joyful Self-Care Success System—9 Weeks to Happier Healthy Habits and a Fully-Charged Life; and speaking at companies, conferences, events and schools. She can be booked for speaking/workshops or individual coaching at robyn@robynlandis.net OR fill out the request form at nourish.university.  You can also get a free eBook on her Keys to Motivation for Healthy Living.
Robyn looks and feels better than ever; she is stronger, freer, and more conscious; and she is maturing/growing older as beautifully as one might hope. She is passionate about sharing these potentials with a Western culture still struggling as woefully with these issues as they were 25 years ago. And she is hopeful that other teachers and authorities who are vexed about "cracking the motivation code" will take a page from her unparalleled, time-tested approach.
Robyn is contributing to transforming a relationship to food, health, and total nourishment in every life area that is sane and humane for people, animals and the planet.
(See Robyn's post about her return to writing about food, health, sustainability and lifestyle.)
Robyn has lived in New York, Boston, Seattle, and Tucson, Arizona, where she currently makes her home. In addition to her two books, she has used her abundant, radiant healthy energy to put out three CDs of original music and tour in support of them; write numerous articles and newspaper guest columns; serve as Communications Director for several organizations; assist spiritual teachers in developing meditation programs; edit others' books; volunteer at Best Friends; take bike trips and backpacking trips; and adopt dogs, including her current canine companion Simone, an American bulldog. She hikes, bikes, runs, swims, does yoga, meditates, and loves to cook and eat. Her favorite food is dark chocolate; she is obsessed with tea, natural lip balms, organic hair products, and trail shoes; and she usually wins at Scrabble (by quite a bit).  Contact her at robyn@robynlandis.net.