So we had Thanksgiving, and Christmas is right on its heels. The holiday season is in official full swing. And many people sense themselves about to descend (if they haven't already!) into a haze of sugar, shopping, sleep deprivation and saturation—spending in every sense of the word.
In spite of the potential for warmth, fun, giving, extra time with friends and family, and reflective celebration of the year nearing its end, too many people feel exhausted—by the extra demands on their time now, and the expectations surrounding gifts, food, and events. Even dedicated healthy-living buffs may supplant their usual healthy habits and standards during this time.
But does it need to? I believe that one of the reasons I feel so consistently, joyfully healthy and happy is that I prioritize self-care in a way that brooks no argument from the external world or ego. My commitment to body and health are pretty ironclad, and rarely do I allow anything to get in the way of putting fitness and healthy choices first. No societal expectation, at any time of year, is bigger or stronger than my passion for living well—in a way that's good for me, others, and the planet. (This way of being didn't come fast or easily; I've developed it over decades. But you can, too.)

We choose largely based on what we most value; we can see the truth about what we're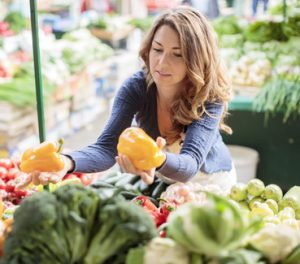 valuing by our actions and choices. Sometimes this can be unconscious, so having absolute clarity about what really matters and keeping our attention there creates greater context for our choices. Reflection can build intention that has real sticking power.
That's why I believe the biggest action you can take—that will help at this time of year and all year long—is to cultivate your deepest, highest reasons for taking great care of your one precious body.
Reflect about your care for the "vehicle" that carries you through all you're here to do in this world. Then, consider making choices that support that. When we allow such values to influence our choices, there are simply things we will not do.

Still, the holiday season—with its relentless commercialism and romanticization—presents challenges. It can be as hard to remember the spirit of what the season might really be about as it can to get to the gym, or cook a healthy meal. But it IS possible to sail through the extra-packed weeks fueled, energized, rested, and grateful. Here is a list of tips that may help.
EXERCISE
 Do 10-minute HIIT workouts. (Or 7, 8, 12, or 15 minutes. It's pretty well agreed these days that short, intense bursts work better than long slow cardio for fat loss anyway, plus they're over before you know it. You can almost always find 10 minutes in the day (morning, midday, or evening, whatever your best time is).
High-intensity workouts, and especially high-intensity intervals, are proven to burn fat, elevate metabolism for some time after the workout, and give you more bang for your time buck. Youtube is bursting with millions of workouts, but choose a reputable trainer you like who emphasizes safety and cues sensibly. I like FitnessBlender, BodyFit By Amy, and Bowflex; the Befit channel has lots of good ones too, from famous to less-known trainers.
2. Shop online and use the saved time to exercise. I'm a big online shopper. To me it's a lot faster to search what I want from the big wide universe of all stores, find the right thing or the best price, and get it delivered. I don't spend time driving anywhere and I save gas. (Sure, the delivery truck uses gas—but they're coming to my 'hood anyway to deliver all those other packages!) You don't need traffic and malls. BONUS: you're less exposed to sick people. Keep your butt in your chair and order your presents (better yet, use my Holiday Eco-Shopping green gift guide!)—then get up and do 10 minutes of jump squats, mountain climbers, lunges with kicks, and pushups!
3. If you must go to the store, park a long way away—and use a fitness tracker. Walking places—even when you don't have time to "go for a fitness walk" can add up. And if you're going to be running around a lot this time of year, you might at least get a charge from knowing that you're racking up the miles. Seeing the tally can incite you to go further, making it a game/competition with yourself. If you don't want to wear (or spend money on) a wristband or clip-on, there are free phone apps that will track your steps and miles.

4. Build family outings around the outdoors instead of TV, movies, and meals. If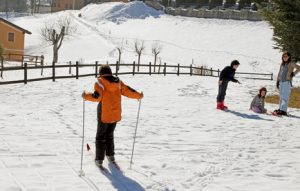 you're in a wintry zone, get everyone together for a snowshoe or cross-country ski and enjoy what the season has to offer. If you're in a warmer clime, try a hike or bike ride. Family of couch potatoes? Offer a healthy but fun "reward" for those who'll go with you—like an aprés snack at a local yummy good-for-you eatery. Or tell them their participation is the gift you want this year!
FOOD
5. Be the one cooking holidays meals, so you control what's served and know there's plenty of healthy fare (and have fun making it all clean and delicious so you can convert others! "Nope, Uncle Fred—there's no meat/sugar/lard in that!") It might seem like a lot on your plate to be the one hosting—but you might be able to enlist help from friends and family with the same aims.
If not, make it a potluck: you provide at least one or two dishes you know you and everyone will love. Make yours beautiful, healthy and delicious too, and you'll offset ::shudder::: yams with marshmallow, or cranberry sauce from a can.
6. Try this trick for holiday gatherings, if you're hosting—scout out great recipes you want to try and see if your tribe is willing to be assigned one recipe each to bring. Explain that you have tons of awesome picks, and can't make them all yourself, so you want to distribute the fun! Pick ones with stunning photos and wide appeal, and keep them simple enough that less-savvy cooks wont be daunted. People may be relieved to be told what to bring. You can also suggest store-bought alternatives and specify brands you know are quality.
7. If you must go to someone else's home for a holiday dinner or party, bring your own special dish you can eat. Again, make it a showstopper and you might actually get some folks interested in your healthy ways. If not, you're still covered on fit, yummy fuel. The Internet is virtually splitting its cyberseams with amazing, gorgeous recipes for holidays foods that won't make you look and feel awful. One of my favorites right now is OneGreenPlanet—I must have printed out 20 new recipes last week! I also love Minimalist Baker and Feasting on Fruit (best desserts!). Do some Googling and subscribe to some food blogs that appeal to you.
8.  Cut the sugar in every holiday recipe in half. You won't notice it much, truly, and you'll also wean yourself from needing things super-sweet. Also, sweeten with applesauce or date sugar (date sugar is the only sugar that has 2 g sugar per teaspoon vs. 4, and it tastes great).  Applesauce also allows you to use less oil—and yes, we need some fat, I know, I know—but not as much as in some baked goods! You can cut the sugar and oil WAY back and not ruin it, I promise.
9.  Choose the highest-quality ingredients for your recipes that you can afford. Spend a little more on organic and make your food more clean and pure, for yourself and others. Go chem-free, preservative-free, artificial color-free and artificial flavor-free, and note if you feel better.
10. Eat some of your own food before parties—don't go hungry to someone else's junkfest. The data is in: going hungry to "save room" for treats NEVER works. You will arrive famished and desperately chow things you might not normally touch (goes for drinks, too). Instead, eat your favorite healthy food prior, then nibble on only what truly speaks to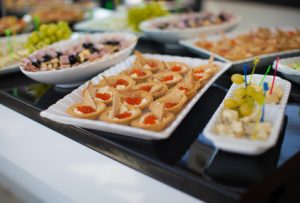 you (being already satisfied will help you be conscious and choosy; you'll be rational enough to stop and consider what that might be, rather than lunging for anything and everything). The extra nibbles over and above your regular eats won't be devastating a few times over the month. But gorging yourself on greasy hors d'oeuvres probably will.
DRINK
11. Limit the alcohol to very special occasions. Don't mean to be a wet blanket, but studies are now consistently showing that several drinks a day does not reduce your disease risk—it raises it. Stick to one drink, and have at least two glasses of water for each alcoholic beverage. Common sense: don't drive if you've had a few.
12.  Hydrate. Even goody-two-shoes water-drinkers like me (I normally guzzle a gallon a day) forget to do it in the frenzy of the season's busier days. Plus, in cooler weather we may not feel the need as we do in summer. But we do still need plenty of water, and dehydration can cause headaches and even masquerade as hunger. Bring a beautiful glass or stainless steel bottle with you everywhere you go (great gift idea too!); get a small size for your purse or tote and keep one in the car.
13.  Bring flavored sparkling waters to parties and gatherings. Whole Foods makes some delicious Italian sparkling mineral waters in assorted flavors, or bring another brand with unusual flavors. These can also be mixed with smaller amounts of alcohol for a mild buzz. If you're holding a party glass of something bubbly, no one will question you, and you'll feel part of things.
REST AND REJUVENATION
14.  Go to bed already! I'm guilty myself of "one more thing"…that leads to so many more things that my wishful midnight deadline turns into 1 a.m. (or okay, later). But being sleep-deprived will not only sap any joy out of the season, it'll make it hard to do all the healthy stuff you want and need to do. It blunts exercise and eating well. We're more prone to poor choices—food and otherwise. Exhaustion is known to produce hormones like ghrelin that increase hunger and cravings, and decrease satiety hormones. It certainly handicaps our judgment. Whatever the "one more thing" is, leave it till tomorrow. You'll do a better job rested.
15.  Meditate at least 10-15 minutes a day. I can't say enough about this—it will support every other thing I've recommended here. Choose whatever kind you'll actually do (it's a lot like exercise in that way!) but I most recommend direct awakening practice, insight or awareness meditation rather than the mantra (concentration) kind, for many reasons—one being that I find the former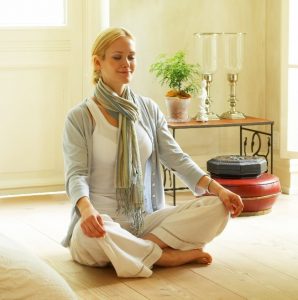 actually more accessible for beginners. You don't have to quiet your mind (who can really do that, anyway?) Instead, you simply practice BEING with your mind, to sit with and allow your mind to do whatever—just not pay attention to or be moved by it. Rather than feeling you're failing because your mind is busy, you simply practice equanimity in spite of it—a stance that can serve you "off the cushion" by being awake, seeing what's real, not reacting unconsciously or giving energy to things that aren't worthy or constructive. As with exercise, the more you do it, the "stronger" you will get. And the list of other benefits could fill an entire post on its own.
16.  Say no. As has been said, it is a complete sentence. Be clear about your priorities and you will not get pulled willy-nilly onto unplanned, unscheduled—and unhealthy—diversions. That doesn't mean you can't spontaneously dive into something, but make sure it's your choice and nourishing in some way. Don't drain yourself for other people.
17.  Plan a retreat for January. The first week of every year, I sequester myself somewhere pleasing (it can be just a house-sit for a friend) and do a writing retreat. Just me, my books, journals, notepads and guitars, and something outdoorsy to do nearby. Fitness and creativity. This will give you something to look forward to—and a chance to rest, re-set and detox in mind and body from any holiday excesses. It's a healthy use of any vacation time you can wrangle.
18. Remember the real reason for the season. Be a leader in your life, not a follower, when it comes to standing firm about and representing what's real. Know what's important and don't allow anyone else (whether marketing, media, or even Mom) tell you how your holiday—or your life—should be.
When you're fit healthy, rested and de-stressed, you can better see through the thoughtless cultural assumption that it's important to buy, have, give, or do the perfect thing at holiday time (or any time).
Behind all the hype, and behind the religious meaning (for the truly observant),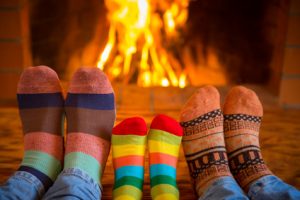 year-end celebration can be pretty simple. We slow down, warm ourselves against the chill, light the longer darker days with candles and pretty lights, cook some good food, and spend some extra time with family and friends—and express gratitude and gather our reflections and plans for the coming year.
It's nice to exchange tokens of appreciation at this traditional time, but you don't have to buy every meaning or Hallmark-frosted picture that's rammed down your throat. No need to get all bah humbug about it, either—just separate fact from fiction. It's okay to smile and shake your head at all the racket going on.
By being a leader and not a follower, you can also set an inspiring example. What better gift could you offer than to infect others with your enthusiasm for keeping active and fit; preparing and sharing delicious healthy food; making eco-friendly and less materialistic gift choices; and proving that the holidays don't have to be that different than the rest of the year—just a bit busier!
Be the candle on these shorter darker days. If that's not a goal that inspires you to great choices, I don't know what is.
---
ROBYN LANDIS is an ACE-certified fitness professional, personal trainer, health coach, Ayurvedic educator and bestselling author. She is a mind-body transformer who helps people LOVE getting the body and energy that's fit for their dreams—without hype, regimens, extremes, or concern for irrelevant "weight." 
Robyn brings science, spirit and common sense to untangling the "health hairball." She simplifies proven essentials, and ignites your own powerful desire to use them.  Her unique, trademark Conscious Inspiration™ process has helped thousands overcome health-info confusion, overwhelm, and resistance, and transcend the issue of "motivation."  She tirelessly dissolves destructive myths about health and fitness, and models joyful self-care.
Robyn's books (including Herbal Defense, cowritten with KP Khalsa, one of the country's top plant medicine experts) have been published in five languages with a combined 200,000+ copies in print. She writes, teaches, speaks, coaches, trains, facilitates and designs programs. She offers individual and group coaching, including "NOURISH U: 9 Weeks to More Energy, Less Fat and a Super-Fueled Life."  www.robynlandis.net, www.nourish.university. Her clients learn to integrate food, exercise, rest, meditation and traditional healing, and become deeply happy getting exceptionally healthy™ —with energy to spare and the health to thrive and live fully.