I love gingerbread at the holidays. I"m sure that makes me exactly no different than most people. Actually, I love gingerbread all year long. Nothing like a gingerbread cake of any kind with a cup of tea.
In playing with recipes to come up with the perfect gingerbread cake and gingerbread cookies, it occurred to me that a fun way to convert gingerbread spice cake (or the chai cake I was drooling over) into bite-sized servings would be to put the batter in my new mini donut pan. I mean, to me the only thing better than a moist slice of cake is a cakey anything in a donut shape.  And thus the gingerbread donuts were born.
Truth be told, this recipe would probably work just fine for a full cake, whether 8″ round or 9 x 9.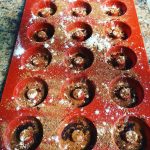 You'd probably want to double the recipe for a cake, though. I was experimenting, so I started out with a batter size that gave me 21 mini donuts. They didn't last long. I'll double it next time myself.
This recipe is an amalgam of a gingerbread cake I like and two "chai cake" recipes I was exploring. I loved the way this balance of ingredients turned out, and so did all my testers!
As usual, though, I strove to make the recipe extremely low-sugar (I used less than half the sweetener called for in most such cakes). If you've been following me, you know that my sweet tooth is—while ever-present—also extremely sensitive. That is, it doesn't make much sweet to satisfy it—and I prefer to encourage others to bake with (and generally eat) less sugar.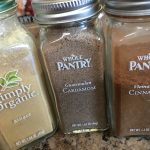 So if you need to add more sugar, go ahead—but I suggest you at least try it this way first. The spice—especially the cardamom—just might make the subtler sweet go far enough for you. (The spice-to-batter ratio is also a bit higher than normal for such cakes—especially the ginger and cardamom. If it's overpowering, you can tone it down next time!)
Enjoy!
INGREDIENTS
1/2 cup 100% whole wheat pastry flour
1/4 cup (30g), organic rye or buckwheat flour
1/4 cup barley flour
2 tsp ground ginger
1 tsp ground cinnamon
1 tsp pumpkin pie spice
1/2 tsp ground cardamom
1/4 tsp salt
1/4 tsp black pepper
3/4 tsp baking soda
1/8 cup organic date sugar
Powdered vegan organic confectioner's sugar, optional
1 T walnut oil
1 T organic applesauce
1/2 cup organic unsulphured blackstrap molasses
1 T apple cider vinegar
1/2 cup strong chai tea, very hot (can be black, rooibos, caf or decaf)
WHAT TO DO
Preheat oven to 350˚. Prepare donut pan by lightly oiling each cup/ring, then dusting each with a bit of date sugar, cinnamon, and/or powdered sugar.
Combine all dry ingredients in large bowl.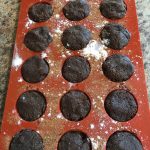 In glass bowl or measuring cup, combine molasses and vinegar. Add 1/2 cup boiling water or chai tea. Add the oil and applesauce. Stir well, then mix wet ingredient into dry, turning until just moist.
Pour/pat batter into donut cups (again, muffins or a single cake would probably work as well).
Bake for about 25 minutes, testing frequently, until donuts are springy to the touch and a toothpick comes out clean. Cool donuts and dust with more cinnamon and/or sugar if desired.
Makes 21 mini donuts (or mini muffins or cupcakes).
NUTRITION FACTS PER PIECE:  11 g. carb, 6 g. sugar, 1 g. protein, 1 g. fat