These cookies were a huge hit at Thanksgiving—so much so that I am making them again for Xmas. And I also promised to get them on the blog real soon.  So—voila.
I worked extra hard on these—I made them several times (I know, tough job!), adapting from at least four different pumpkin spice cookie recipes, trying different combinations of flour types and quantities till I got the taste and texture I wanted.
They're extremely low-sugar, as are all my recipes—so as always, you can up the sugar either by adding more granulated (and adding more moisture to balance that by splashing in some more nut milk) or by adding some maple syrup or molasses.
Variations and extras: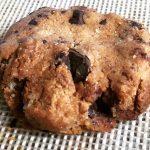 Regular chocolate chips will work too, and an egg (or flax egg) might make them springier, but I liked them like this. 🙂
I tried one batch with dried unsweetened cranberries as well, and they were yummy! (And that red might add a nice Xmas touch!) But unsweetened cranberries are hard to find, and in the end I wanted to share them as basic pumpkin chocolate chip.
You can certainly make these even simpler and faster (although they're already pretty darn swift) by using just one or two flours, like whole-wheat pastry or rye or buckwheat (I'm big on buckwheat flour these days; it gives a sweetish grainy taste and feel, a nice toasty color, and the organic is quite inexpensive, plus the nutrition profile is good). I happen to like to really fine-tune the flours because I feel like it can make a big diff with texture and taste when you're cutting back on the sugar and oil. I'd love to hear how you do if you just use one or two basics. I'm confident it would work fine. 🙂
You can dust the tops with date sugar, cinnamon, and/or cocoa powder. I've tried all three and like them equally with and without. 🙂
I honestly feel like these are as good a healthy energy snack as they are a holiday cookie! Enjoy!
Pumpkin Chocolate-Chunk Cookies (Vegan)
Ingredients
DRY
1/3 cup quinoa flour or buckwheat flour
1/3 cup rye flour
1/3 cup whole wheat pastry flour
1/4 cup coconut flour
2 tsp pumpkin pie spice
1 tsp cinnamon
3/4 tsp baking soda
1/2 tsp baking powder
Pinch of sea salt
10 squares 88% dark chocolate (or similar), chopped
WET
1/4 cup coconut oil, melted
1/3 cup blonde coconut sugar
1/2 cup pumpkin purée
1 tsp vanilla
1-2 tsp hot chai, cinnamon, gingerbread or other spice tea
Splash of almond or coconut milk
What To Do
Mix the wet ingredients together in a large bowl until they're smoothly blended. I start with the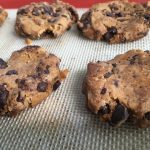 pumpkin, add the coconut oil, then vanilla, then mix in the sugar, and finally the hot tea.
As I often do with my baking, I keep things simple by using one bowl, so you can add the dry ingredient in a well in the center, sifting them first in the well and then mixing them outward until you have what feels like a dough.
Chop the chocolate bar in a food processor or blender (I used Endangered Species 88% dark, but you can use anything you like, or 3/4-1 cup dark chocolate chips).  I chop them roughly until the chunks are larger than chocolate chips but not much larger than an adult fingernail.
Fold in the chocolate chunks or chips, and add a splash of almond or coconut milk to moisten a bit if the dough is crumbly.
Refrigerate the dough for 15 to 30 minutes. (You can skip this, but the dough may be too sticky when forming balls.)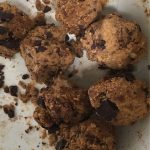 Form dough into balls (I made my cookies fairly small—bite-size for sharing and giving and buffet—but you could divide this recipe up any way you like, making fewer medium or large cookies.  By making balls the size of chocolate truffles, I got 27 cookies (I know, a weird number) out of this recipe). Obviously, double recipe for more.
Place the balls on a silicone baking mat (my pref) or stainless pan lined with parchment (I don't recommend nonstick bakeware). Flatten the balls into a cookie shape with a large spoon or your palm.
Bake at 375˚ for 13-18 minutes depending on your oven; check often. If cookies have brown edges or are springy when poked in center, it's time for them to come out! You could bake a couple minutes longer for a drier, crisper cookie.
Watch them disappear!
NUTRITION FACTS PER PIECE (when making 27 cookies):
7 g. carb, 3 g. sugar, 1 g. protein, 3 g. fat
*All ingredients are organic.
---
ROBYN LANDIS is an ACE-certified fitness professional, personal trainer, health coach, herbalist, motivation specialist and bestselling author. She is a mind-body transformer who helps people LOVE getting the body and energy that's fit for their dreams—without hype, regimens, extremes, or concern for irrelevant "weight." 
Robyn brings science, spirit and common sense to untangling the "health hairball." Her unique, trademark Conscious Inspiration™ process has helped thousands overcome health-info confusion, overwhelm, and resistance, get free of the toxic paradigm she calls Diet Thinking™, and crack the code of "motivation."  She tirelessly dissolves destructive myths about health and fitness, and models joyful self-care, embodying and advocating a radically vibrant, radiant vision of " wisening." 
Robyn's books (including Herbal Defense, cowritten with KP Khalsa, one of the country's foremost plant medicine experts) have been published in five languages with a combined 200,000+ copies in print. Her vision is to uplift and uplevel the way we think, talk about and DO healthy living—and how we teach kids to understand and treasure their bodies. She also strives to end the use of "weight" as a measurement. She writes, teaches, speaks, coaches, trains, facilitates and life-changing programs and practices that help people make healthy choices joyfully. She offers individual and group coaching, including "NOURISH U: 9 Weeks to More Energy, Less Fat and a Super-Fueled Life."  www.robynlandis.net, www.nourish.university.

Robyn specializes in helping women over 40 achieve optimal hormonal health for glowing skin, lower bodyfat, energy, and JOY—and men at midlife who've "let themselves go" get back in shape so they're primed for performance and pleasure in their next phase of life. She also specializes in lifestyle approaches to fatigue, migraines, heart health, diabetes, digestive issues and sleep disorders.  Her clients learn to integrate food, exercise, rest, meditation and traditional healing, and become deeply happy getting exceptionally healthy™ —with energy to spare and the health to thrive and live fully.