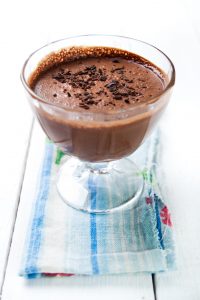 So, I'm a plant-based health coach and fitness trainer… and I don't like avocado. Gasp!  I know—it's heretical. I don't like to admit it. (I hate sprouts, too. There. I said it. Hey, I like pretty much everything else!)
But avocado is so incredibly healthy—with its unsaturated fat, carotenoid antioxidants (like lutein and zeaxanthin), B vitamins, fiber and potassium—that I do try to work some into my food life.
I look for sneaky ways to do it, kind of like trying to get kids to eat their vegetables by hiding them in more kid-savory items.  Guacamole is one way (yeah, I can tolerate it when it's creamy and pureed and uber-seasoned with garlic and tomato and onion—just not, ick, slices. 😉 ) Chocolate is another way to make it palatable. (Of course, IMO, chocolate makes everything palatable.)
I know there are dozens if not hundreds of variations on the avocado-and-cocoa chocolate mousse. What's different about mine?  Well, like a lot of my recipes, it's designed to be less sweet and more chocolatey than most. That's because I have a sweet tooth and am a chocolate diehard, but I like things just-barely-sweet—to keep sugar intake low for health reasons, and because my palate has adjusted that way. (I don't eat anything less than 85% dark chocolate with 6 grams of sugar or less per serving, and prefer 88-90%.)
I experimented to perfect a balance of ingredients that would be chocolatey enough, and just sweet enough not to leave people feeling like they just had avocado puree for dessert—yet low-sugar enough for me to feel good about devouring a cup.
I modified a recipe I really like down to just three dates from the required half-cup (egads!), and reduced the avocado and milk volume while keeping the cocoa about the same. (I've even done this with two dates—when it's just for me, that's still sweet enough!)
So here I wade into the fray and offer you my super-easy, richly chocolatey, creamy and decadent take on avocado-based chocolate mousse. It may not be sweet enough for everyone, but if it works for you, I think you can feel pretty virtuous eating it. I do!
I like ALL my recipes to be simple, super-fast and crazy-easy…yet beautiful and delicious. This one, I think, is no exception.
[custom_headline type="left" level="h2″ looks_like="h2″ accent="true"]Barely-Sweet, Super-Chocolatey, Easy Avocado-Choco Mousse[/custom_headline]
WHAT YOU'LL NEED:
1 large ripe avocado, cut into slices or chunks
1/4 cup unsweetened cacao powder
3 large medjool dates
1/4 cup nondairy milk
WHAT YOU'LL DO:
Blend the dates in a small food processor or blender till it's a smooth paste.
Add the avocado, cocoa powder and milk, and blend till creamy/smooth.
Pour/scrape out of bowl/jar into small dessert serving bowls or ramekins.
Chill for one hour.
Savor.
OPTIONAL:
If you're feeling fancy, you can sprinkle on top:
cacao nibs
chocolate chips
chocolate shavings
a dusting of cocoa powder
a dusting of date sugar
(Date sugar has 2 grams of sugar per tsp vs 4 grams of sugar in every other kind of sugar—even coconut sugar—so it's my go-to for the times I add my minuscule amounts of sugar.)
Enjoy!