A gorgeous, warming, red-purple soup for winter's gloomiest days!
I whipped this up the other night when I had a large hunk of a giant head of red cabbage still waiting to be used, even after a couple days of stir-fries.
I remember my Grandma Rose, who lived downstairs when I was growing up, cooking cabbage soup—and I loved the smell in the house. (My dad, I recall, did not.) She used beef, which as a plant-based eater I do not, but you can add meat if you like or you can use veggie "crumbles" as I did. (It's great without any meat / meat sub at all. With just the veggies and beans, it's still 7g protein per serving. And you could double up the beans, as well, for a "meatier" chewier texture and more protein.)
Grandma Rose was the person who first got me eating vegetables (bowls of zucchini stewed in butter and salt, I'll never forget it). And her cabbage soup was also one of the first veggie dishes I ever loved.
Of course, nowadays I have veggies bursting out of my fridge and my life!  Grandma would be proud.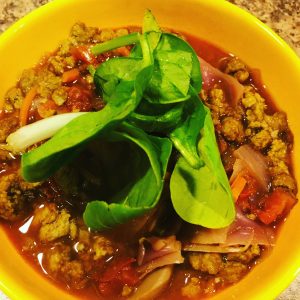 Anyway, here is this tasty, satisfying, colorful recipe. (I felt a bit guilty for not putting anything green in it—I nearly ALWAYS have some green in my soups and stews!—but I just enjoyed having the warm colors only, for once. Hence the spinach leaves I tossed on top of my photo. 😉  I do eat a side of broccoli or spinach salad or sautéed chard and collards each night I eat this soup, or else have green at lunch.
(Orange cornbread is AMAZING with this too…another new invention! Recipe coming when I get a chance. I've got a huuuuuuge backlog of recipes to post, now that I have control of my website again. Long story. Don't ask.)
(I realized afterward that you could add red quinoa if you want more grain and substance, to continue the "red" theme.)
INGREDIENTS
•  8 oz red cabbage, roughly chopped
•  6 oz red or yellow onion
•  4 garlic cloves
•  3 oz shredded carrots
•  1.5 cups frozen mixed mushrooms
•  1 cup frozen organic beets
•  2/3 cup frozen organic tri-color sliced carrots
•  2 cups organic vegetable stock/broth
•  1 can Organic Kidney Beans, drained and rinsed
•  1 can Organic Diced Tomatoes & Fire Roasted W/ Organic Green Chiles
•  1 cup Beyond Meat Feisty "Beef" Crumbles (optional)
•  Cumin (to taste)
•  Coriander (to taste)
•  Chili powder (to taste)
•  Garlic granules (to taste)
•  Pepper (to taste)
•  Himalayan sea salt (to taste)
•  Fire-roasted jalapeño powder (pinch)
DIRECTIONS
Sauté onions, garlic and shredded carrot in 1/2 T olive oil and a little veggie broth (if you are a fat/oil advocate, you may wish to use more oil, but I find this sufficient, as I get my fats other ways throughout the day rather than from processed oils) till soft. Add spices to taste (I eyeball, sorry, but probably at least a teaspoon or two of all except the jalapeno). If you're using "meat," add and "brown" it now, adding a bit of liquid to keep from sticking.
Add chopped cabbage and enough broth to simmer. When cabbage is soft, add rest of broth, frozen

veggies, rinsed beans, and canned tomatoes (i'm pretty unceremonious about this! I just dump it all in). Add enough fresh filter water to bring the level up to about 3 quarts. Add spices to taste.
Of course, you can vary the veggies however you like. And I mixed shredded and sliced carrot only because that was what I had around; my soups are often borne of "leftover syndrome." 🙂  (The pretty purple carrots in the sliced frozen mix added to the hue theme!) Potatoes would probably be traditional to add to a soup like this as well, if you eat those.  Might as well go red or purple on those too! I might add some riced cauliflower next time, if not the red quinoa.
Enjoy!