This Strawberry Shortcake Smoothie is actually more aptly titled Strawberry Shortcake Sneaky Shatavari Smoothie—but I didn't want to scare you off. 😉
You don't HAVE to add the shatavari or other herbs (then it's just a tasty berry smoothie!), but I devised this blend specifically to get some of my daily shatavari in without being the wiser, smoothie-flavor-wise.
Stealthily slipping herbal/botanical and bioactive additions into my smoothies for added benefits, without ruining the delicious smoothie refreshment, is a specialty of mine. I'm always perfecting blends that can handle a significant amount of medicinal stuff without tasting, well, medicinal. (Check out my favorite Chocolate Cherry Reishi Immune Smoothie on this blog, for example.)
My smoothies usually have some chocolate in them, but I was intrigued by a recent acquisition of good vanilla protein powder and experimenting with it. I'm also wanting to amp up my intake of shatavari, and this mild herb from the asparagus family is tasty enough to be smoothie material. I thought it might be better disguised with a vanilla kind of vibe than chocolate, so here we have it.
Shatavari, in case you're wondering, is an Ayurvedic herb known as "Queen of the Herbs" for female health and libido. Asparagus racemosus may be the most important herb for women in the Ayurvedic herbal apothecary (I've been taking it for over 20 years!)
As an overall reproductive tonic, shatavari is used at all stages of a woman's reproductive cycle, from the start of menses to the end, supporting ovulation and fertility and addressing symptoms of PMS as well as symptoms associated with perimenopause and menopause.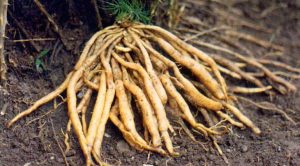 Classified as both bitter and sweet, the powder is made from the thick tuberous roots of the plant, hence its Sanskrit name that translates as "the plant that has one hundred roots below the ground." (It's also sometimes translated as "the woman with a thousands husbands!" 😉 )
It's been used for thousands of years as a female tonic and hormone balancer, and although it gets most of its attention related to the female reproductive system, it's actually an aphrodisiac for both men and women, and can help to balance excess pitta or vata systemically in either gender (increases kapha).
(If that doesn't make any sense to you, and you want to learn more about Ayurveda and get Ayurvedic counsel, you can contact me, or read my book Herbal Defense, or just hit up the good old Internet.)
It's a good general stamina builder, digestive tonic, and immune rejuvenative as well—male or female. It's cooling and soothing.
I take a smorgasbord of other woman-specific herbs and nutrients, with affinities for female hormones and issues. No doubt it's that "symphony, playing on a solid foundation of what I call nourishment pillars (food, movement, rest, and unwinding—all done both strategically and joyfully) that has supported a body and life I feel fortunate about.
But I do give this one herb a lot of credit because I can feel how—true to its name—it's been the "queen of herbs" for me, and for many women I know.
You can take shatavari in capsules or tinctures, but I take a lot of other botanicals that way—so if I can get some by putting powder in a smoothie or just water, I do that.
Shatavari is really like a food, being from the asparagus family (it tastes more carroty to me!) – so, like turmeric or the Chinese immune-boosting adaptogen astragalus, we tend to think of "eating" it if possible, rather than just taking a pill.
As part of the asparagus family, this herb should be avoided by anyone with an allergy to asparagus. Since asparagus may have a diuretic effect, shatavari should be used with caution if taking diuretic drugs.
(Please note: always consult a practitioner before using shatavari or any botanical while pregnant or nursing. These statements have not been evaluated by the Food and Drug Administration. No product mentioned herein is intended to diagnose, treat, cure, or prevent any disease. This content is not intended to be a substitute for professional medical advice, diagnosis, or treatment. Always seek the advice of your physician or other qualified health provider with any questions you may have regarding a medical condition or before beginning any new food, exercise or supplement.)
I like Banyan Botanicals Organic Shatavari Powder and they have a nice article on the herb here: https://www.banyanbotanicals.com/info/ayurvedic-living/living-ayurveda/herbs/shatavari/
So enjoy. 🙂
STRAWBERRY SHORTCAKE SHATAVARI SMOOTHIE
INGREDIENTS – BASE
1/2 to 1 cup of organic almond milk, macadamia milk, coconut milk or cashew milk

1/4-1/2 of a cup of water (more or less for desired thickness)

1/2 scoop plant-based organic vanilla protein powder (I tried Amazing Grass Protein Superfood for this one and liked it a lot; usually I would use Aloha; you may want a full scoop)

About 2-3 ounces frozen strawberries (or more to taste/for thicker smoothie—also, other berries are great, and you can mix!)

1 to 1.5 ounce-ish frozen banana (or more to taste/for thicker smoothie—I like it less sweet)

ice as desired
HERBAL ENHANCEMENTS
1 heaping T of organic shatavari powder


(ALL OPTIONAL):

1/2-1 T. beet root powder and/or dragonfruit, mangosteen, or other superfruit powder

1/2-1 tsp. Camu Camu powder or Billy's Infinity C

1/2-1 tsp. your favorite mushroom powders, such as reishi, chaga, and/or cordyceps (I've used Om and Host Defense before, but my newest favorite is the Sacred Seven blend plus single shrooms by Naturerealm)

1/2 tsp. mucuna powder

1/4 tsp. moringa leaf powder or other favorite green food
They all "hide" very well in there.
Blend all until smooth.
Absolutely delicious and refreshing, no herbal taste at all (to me anyway). Mission accomplished!
VARIATIONS:
Any berries at all.

A tablespoon of nut butter—especially cashew or macadamia or something else a little less typical than peanut or almond—would give it more of "cheesecake" than "shortcake" identity (and add fat and a bit of protein as well).

Frozen cauliflower would also add more creaminess (and nutrition) , but I don't tolerate raw crucifers real well, so I abstained. 🙂
Flax/chia would thicken and bit boost protein a bit, up the omega-3 value, and Whole Foods 365 Maple Vanilla Flax would probably go well with the theme.
If you want to sweeten (I don't think it needs it, though) you could simply add a bit of your favorite to taste; try mesquite or lucuma powder for a caramel-y flavor that would go well with this, as well as more nutrition!
…………………………………………………………………………………………………………………………………………….

ROBYN LANDIS is an ACE-certified holistic health coach, fitness trainer, fitness nutrition specialist, behavior change specialist, bestselling author and herbalist who likes to call herself a "joyful nourishment instigator." A 25-year veteran of the fitness industry who vibrantly walks her talk, she believes that we can evolve how we think about healthy living to make it a natural, joyful choice.
She has helped thousands overcome health-info overwhelm, and crack the code of "motivation." She weaves nearly three decades of study and practice into a signature blend of science, spirit, and common sense—refreshingly free of hype, regimens, and extremes.
Robyn's books (including Herbal Defense, cowritten with one of the world's top plant-medicine experts) are published in five languages with a combined 200,000 copies in print, and her third is on the way. She coaches and trains privately and in groups, helping people love getting the body and energy that's fit for their purpose, and grow "chronologically richer" fearlessly and beautifully. Her clients learn to integrate food, exercise, rest, meditation and traditional healing, and become deeply happy getting exceptionally healthy™ —with energy to spare and the health to thrive and live fully.
She also speaks and writes passionately about how we can transform medicine and fitness culture to inspire people to be good to themselves—which is what self-care really is.