I am such a donut freak. And yet I am also a super-healthy, super-low-sugar, low-fat baker. Can all that work together—and still make a moist, cakey, donut-like baked donut? YES!
For my plain chocolate cake donuts, I used the excellent Minimalist Baker 30-minute vegan chocolate doughnut recipe. However, being a chronic recipe tinkerer who can't leave things alone (sorry, Dana!) and a sort of Less-Sweet. Low-Sugar Challenger, I made a number of modifications that cut the sugar by more than half (just 3.9 g per donut!), the fat by a third, and the calories by a bunch too…and boosted the protein to a really breakfast-respectable 5.5 g each. 98 calories each.
And I can't imagine them tasting or fluffing any better! They actually taste like, you know, DONUTS….ever after a few days…they have that special "leftover slightly stale yet still donut" flavor. LOL. Of course, my sweet meter is a little different these days than average, so adjust as you wish. I know for sure that as great a base as it is, that recipe would be too sweet for me. Why not try it this way and see how you like it?
Here are all the modifications I made: half-and-half oat and quinoa flour instead of gluten-free blend. Half the oil, half the sugar, no maple syrup , increase the applesauce to half a cup, increase the aquafaba to 1/3 of a cup, half a cup instead of 3/4 of a cup almond flour, added a full scoop of organic chocolate plant protein powder, cacao instead of cocoa, annnnd… that's it!
For the glaze (which I only tried once), I did 1 tablespoon of oil, the 1 tablespoon of maple syrup and 3 T cacao—and added a little almond milk to thin it instead of oil. Deliciously dark, almost bitter chocolate glaze – super yum! Yes, I ate a good bit of it with the spoon before glazing donuts. ? (Hence why I only did it once. ?)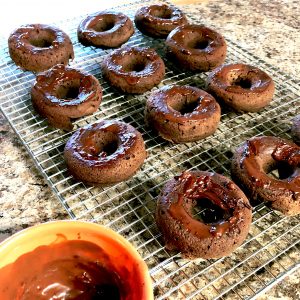 They are also amazing with Nuttzo Chocolate Power Fuel smeared on top as glaze! I did that on the very second batch (yes there was a second batch, oh yes I did, true story). In fact, I have made these once a week since I first tried it! ??❤️
And they're also perfect plain, with no glaze at all.
Let me just say…my favorite food is chocolate and I keep dozens of bars in the house and I still have no trouble usually sticking to six (ish) squares a day. But I have a really hard time keeping my hands off these babies!
You can spice these any way you like (cinnamon, cardamom, pumpkin—or see some of my other donut recipes for various spicing ideas)! Sometimes, though, just plain good old chocolate is the thing.
INGREDIENTS:
.5 cup organic oat flour
.5 cup organic quinoa flour
.25 cup coconut sugar
1/8 cup organic coconut sugar
.5 cup organic raw cacao powder (I use Zint or Viva—can use unsweetened cocoa powder too)
.5 cup organic almond flour
2 tsp baking soda
.5 tsp baking powder
.25 tsp sea salt or pink salt
1 scoop favorite organic chocolate plant protein powder (I use Aloha or Amazing Grass)
.5 cup organic applesauce
1 tsp organic vanilla extract
liquid from 1 can of organic chickpeas (aquafaba)
1/2 cup unsweetened vanilla almond milk (or other plant milk)
1 T walnut oil, coconut oil, Sun-Coco oil, or other mild-flavored organic cooking oil
DIRECTIONS
If you know me, you know I am an unceremonious mixer and my baking seems to be no worse for it. Generally I sift/blend or whisk dry ingredients, make a well in the middle, add wet ingredients, hand-mix till just blended (don't overmix).
In this case, you do want to do one special thing: whisk the aquafaba until it is foamy or even forms peaks like egg whites. A teaspoon or two of either cream of tartar or tapioca flour will help this along (I use both for good measure). I never really get peaks, but I get a good fluffy foam.
You whip this up and set aside, then add it after all the other wet ingredients. I do the dry in a big bowl, the wet in a small bowl, add the wet to the dry, and add the aquafaba last. My batter is fluffy and spoonable into the donut pans (not thin enough to pour, though sometimes it is thinner than others and not sure why). You can always add a bit more flour or cacao to thicken (you know which I'd choose!) ?
I spray a smidge Sun-Coco oil into two silicone donut molds, and they come out amazing!
Makes 12 donuts.
Enjoy and let me know what you think!
---
ROBYN LANDIS is an ACE-certified holistic health coach, fitness trainer, fitness nutrition specialist, behavior change specialist, bestselling author and herbalist who likes to call herself a "joyful nourishment instigator." A 25-year veteran of the fitness industry who vibrantly walks her talk, she believes that we can evolve how we think about healthy living to make it a natural, joyful choice.
She has helped thousands overcome health-info overwhelm, and crack the code of "motivation." She weaves nearly three decades of study and practice into a signature blend of science, spirit, and common sense—refreshingly free of hype, regimens, and extremes.
Robyn's books (including Herbal Defense, cowritten with one of the world's top plant-medicine experts) are published in five languages with a combined 200,000 copies in print, and her third is on the way. She coaches and trains privately and in groups, helping people love getting the body and energy that's fit for their purpose, and grow "chronologically richer" fearlessly and beautifully. Her clients learn to integrate food, exercise, rest, meditation and traditional healing, and become deeply happy getting exceptionally healthy™ —with energy to spare and the health to thrive and live fully.
She also speaks and writes passionately about how we can transform medicine and fitness culture to inspire people to be good to themselves—which is what self-care really is.