I'm a certified fitness trainer and plant-based health coach, everyday amateur athlete, and a passionate proponent of aging beautifully, slowly and healthfully through radical joyful self-care. I wrote the bestselling Bodyfueling when in was just in my 20s, in the 1990s, and now 20+ years later I'm writing NOURISHED: Radical Self-Care and a Sustainable Life—Made Joyful, Easy, Smart and Delicious (Field Notes from a Fit and Fearless Quarter-Century).
I love food and love to eat. In the spirit of an explosion of Well + Good and MindBodyGreen "what I eat in a day" articles—usually featuring celebs, pro athletes and nutritionists—I thought I'd wade into the fray with my perspective. People do ask me frequently!

So this is what I eat in a day—all while keeping sugar low, nutrients dense, and joy intense. Almost everything is organic and/or at least Non-GMO-project verified.
BREAKFAST
I used to do eggs and toast with greens and tomatoes over the 22 years I was a vegetarian, but as a vegan for the last few years, I'm happy with a super-grainy-seedy (12-grain, 21-grain, etc) bread for my toast, and a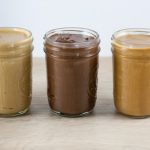 tablespoon or two of quality nut butter. I like to make my own high-protein nut butters by mixing quality organic peanut, almond and/ or sunflower butter with high-quality organic chocolate hemp/pea/pumpkin protein powder and very dark organic chocolate chips. When I don't have access to my own concoctions, I love Santa Cruz Organic Dark-Roasted Crunchy Peanut Butter, and Nuttzo 7-Nut and Seed Butter.
If I'm extra hungry, I might add some Amy's breakfast sausage links which are made from grains, or Lightlife Tempeh Bacon. On special occasions I do tofu scrambles with lots of veggies and spices, or buckwheat pancakes (with chocolate chips, of course). I also make hot cereal with oats and/or amaranth and/or millet. I add cardamom and cinnamon and a bit of fruit, or I make it savory with greens and mushrooms and tempeh bacon, a bit like this recipe.
I also eat 2-3 squares of 88% dark chocolate (often before the main breakfast, as first I sit for my meditation, journaling and other practices). I sometimes have water with fresh lemon, followed by hot tea in the cooler weather, and chilled herbal tea in the warmer weather. The rest of the day I drink both tea and sparkling mineral water.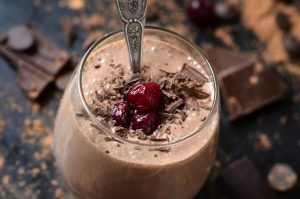 Within a couple of hours I have breakfast part 2 / lunch part 1. Sometimes, that's this smoothie. In the coldest months, I might have a rich hot cocoa I make with almond milk and unsweetened cacao, a tiny dash of date sugar or maple syrup, and cayenne/cinnamon or cardamom/ginger—or this hot chocolate turmeric milk. I
To the smoothie I currently add ashwaghanda powder, shatavari powder, reishi/cordyceps/chaga and/or other mushrooms powders, Amazing Grass greenfood powder, a small scoop of Aloha organic plant-based chocolate protein powder, and half a tablespoon of Healthforce Vitamineral earth. I prefer dark red cherries but also use strawberries, raspberries or blueberries. 
I change up the herbal powders depending on time of year and what my current health needs dictate, in consultation with my herbalist (and my co-author on Herbal Defense). Obviously, you could just do the smoothie without all the herbals. 🙂
LUNCH
For my "second lunch" I might do either a burrito or a wrap (my favorite quickie homemade one is a Mi Rancho multigrain tortilla (made with flax and quinoa, it gives me 5g protein just in the tortilla!) with Follow Your Heart "cheese" or Miyoko's amazing vegan Rustic Alpine cheese, a spoonful of hummus or tapenade, beans if I have some cooked, and some cherry tomato and spinach or other greens. SO good. In cooler weather I might have soup—homemade is best, but on the go might have Red Engine, Fig, or Amy's brand. Or I cook up a quick stir-fry of fresh or frozen veggies plus whatever protein is handy—baked tofu, tempeh, beans.
On the go I also like Sweet Earth's Lighten Up burrito, Tofurkey pockets, or Amy's gluten-free black bean and quinoa burrito (I'm not gluten-free personally, but I like the modest calories and delish flavor of the gluten-free burritos.)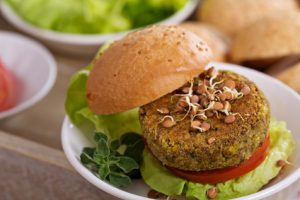 Another quick lunch for me is an Amy's veggie burger (they have so many kinds! most made with grains, beans and legumes) with fixins'—pickles, green, tomato, mustard, Organicville BBQ sauce. I might do it without bread, or openfaced on one slice of sprouted toast. If I make my own veggie burgers, I always freeze a half-dozen for lunches.

For snacks in the later afternoon I might have a bite of low-sugar organic energy bar (I'm super picky about bars, but a few I like lately include Orgain, Garden of Life Fit bars and Plant-Based Protein Performance bars, Macrobar GoMacro Sunflower Butter and Chocolate—I look for high pro, really low sugar, no isolates and organic ingredients); a handful of nuts with dark chocolate; dark chocolate with a dollop of peanut butter on top; a piece of fruit (I do more fruit in summer, I'm not much for winter fruit), and/or some hummus, guacamole or bean spread with Mary's Gone Crackers or Flackers (grain-free flaxseed crackers). Or I bake my own simple snacks, like brownie bites made with this amazing recipe…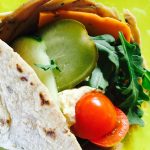 Sometimes I make a little mini quesadilla slider snack with a small organic local corn tortilla and several of these: Miyoko's or Follow Your Heart vegan cheese, guac or avocado, tomato, green onion, fresh cilantro, and a spoonful of beans if I have them around. If I don't have fresh, Better Beans Roasted Chipotle bean dip is handy and delicious.
DINNER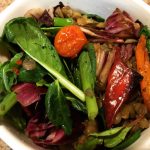 In hot weather it's often salad made with lots of spinach, bok choy, chard, arugula, tat soi or other dark greens plus plenty of cucumber, tomatoes, cabbage, basil or chives, red or orange pepper, radishes and a few olives. (I like olives to be garlic-stuffed or jalapeno-stuffed for extra immune boost.) I don't generally use dressing because I find the salad so flavorful, but if I do, I make my own by simply mixing mustard with a little honey and water—that's it.
For protein I'll toss in walnuts and a few Tofurky slices, or baked sesame tofu cubes, or garbanzo or kidney beans, or one of the pea protein-based mock meats (like Gardein or Beyond Meat "chicken" strips, cold or grilled). I often top the salad with hummus or eggplant spread.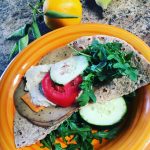 This salad is HUGE, but if I'm really hungry I might have a quesadilla on the side, like the lunch one mentioned.

For a super-quick, classic, non-fancy summer picnic dinner—great when I have unexpected guests—I might do a organic veggie burger or organic veggie hotdog (Field Roast ones are tasty) with fixings (ketchup, mustard, relish, pickles) and fresh organic corn on the cob, plus watermelon or strawberries for dessert. I also make home-made "ice creams" by simply blending frozen fruit with a bit of coconut milk. Peach or peach-strawberry and blueberry or blueberry-blackberry are my faves.
In fall, winter, and spring, I do tons of soups (lentil/sweet-potato/greens stew is a favorite, or thick bean soups with lots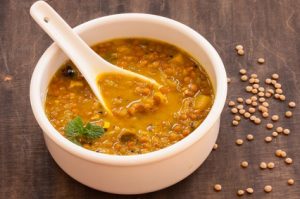 of greens and root veggies) and constant stir-fries. For those I stir-fry or sauté five to eight different kinds of seasonal veggies with tofu, tempeh, seitan, lentils or beans, or occasionally a Gardein or Sweet Earth mock meat. I go for a different protein source every day or two. Often stir-fries are all veggies and protein; occasionally I might augment with a little quinoa, lentil pasta, spaghetti squash, shiritaki noodles, or polenta.
I usually finish off dinner with a couple more squares of dark chocolate and, in cooler weather, plenty of warm tea. I am a big fan of herbal teas and have about 80 kinds in the house! I especially love Republic of Tea varieties, but I also use Yogi, Pukka, Numi, Mighty Leaf, Tazo, Allegro, Traditional Medicinal and a few fave Celestial Seasonings.
I snack in the evening because I tend to work some in the evening—as a night owl chronotype, I am most creative and productive in the evening. I don't eat anything heavy (or a meal) within three hours of bed, though.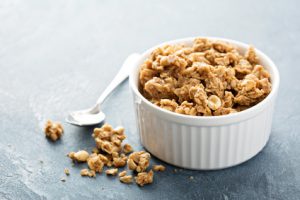 Between dinner and bed I might have: a small bowl of Living Intentions cacao crunch granola (my fave dessert of all time besides dark chocolate) or Purely Elizabeth or Bunches of Crunches granola; a small cup of very low-sugar organic multigrain cereal (like Nature's Path Heritage Flakes or One Degree Organics Veganic Sprouted Ancient Grain Os) with unsweetened vanilla almond milk; a slice of whole-grain toast with nut butter; a handful of berries; a handful of Eden pistachios; or a few Mary's Gone Crackers with hummus. Sometimes I make really fast and easy no-bake mini-bars or energy balls with nut butter, almond flour, chocolate chips, flaxseed, and figs or dates.

…………………………………………………………………………………………………………………………………………………
All of this is a lot of food, yet sometimes—because much of it is naturally low in calories (like veggie-based dinners and salad-based lunches)—it keeps my calories fairly low so that I have to work to stay between 1700-1900 at least (and I need even more if I am, say, on a bike trip or an all-day hike!). It's easy for my calories to fall between 1550-1700 (the low end of that would be considered a low-calorie diet) if I don't "fit in" all of the above foods. When people look at my daily intake, they are usually shocked at how much food I eat.
Notably, this daily spread keeps my protein intake generally at an above-Dietary Reference Intake (DRI) 65-80g a day (without effort!), fats to 70-ish grams a day, and sugars—believe it or not—under 50 g. In summer when I eat more seasonal fruit, the sugar may climb a bit.
This also keeps me strong, awake, healthy, energized, sleeping soundly, and fueled for the hiking, biking, running, swimming, yoga, HIIT and other workouts I do each week, plus writing, teaching, volunteering, and traveling. It's all delicious and I relish every tasty bite!